For
the record, I love my creative writing course. Below are two of the poems produced so far. I'd love to hear your thoughts. Honesty over flattery, always.
Living in the Smiles
I remember you running beside the train waving good-bye.
Your hand stretches up to mine over and over again like an old movie reel.
Your laughter imparts essential truth, and I smile my sanguine resolve.
We are the happy ending only found in black and white.
I picture you this way. Hold you
in my mind this way: The way I would have had it.
I forget the way tears salted
our last kisses like a wound.
How when I left we could not date
my next arrival, and that memory alone
preserves the tender
moments that splice us together.
The way your reassurance branded deep:
We will meet again.
A film slips over my eyes to salve the sting.
I live in the smiles.
When they run out, I make my own.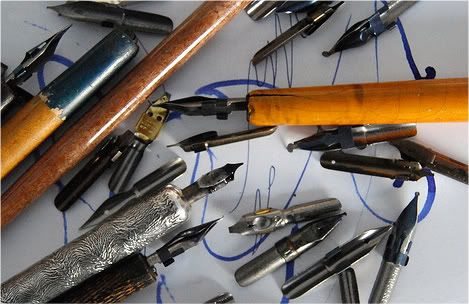 Stains
When I was young I watched my mother
scrub oil stains from my father's clothes
early in the mornings.
Sometimes she was a magician
banishing splotches with puffs of detergent smoke.
Other times she was just angry.
The day she deemed his last 'good shirt'
a hopeless case,
she began to bring home black speckled clothing
of her own. She'd scrub
late into the night,
and after a few weeks of this
both she and my father had a drawer
filled with 'good clothes'
they almost never wore.
Once,
when I'd rather have ran free
than be strapped to the table with homework,
she pushed the pen into my tiny hand.
"So you never have to ruin your pretty dresses," she said.
Still I grip that pen,
and it serves me well.
But each night I scrub the ink
from my splattered palms.
PS --
Please don't read too much into the top one. It is a very overexaggerated version of a real memory that I thought would adapt well into a poem. I am not a terminally depressed person; I promise.