The amazing
Adele
(how's that for a title?) tagged me in her last post. The rules for this lovely game are:

[1] Open your "my photos" folder and select the 6th folder.
[2] Select the 6th photo in that folder.
[3] Post the photo and tell the story behind it.
[4] Tag some friends and have them do the same thing. :)

I was nervous! I had no idea what I might find...what if it was horrid?
But I need not have worried. This lovely memory is what I found: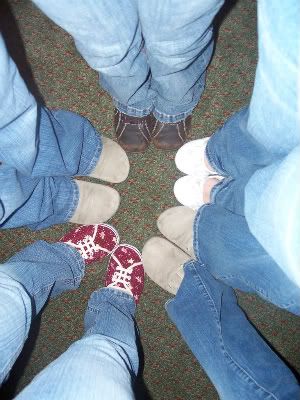 This photo was taken the Academic Team's State Competition. :) Every year our high school team travels from Irvine, KY to Louisville. We stayed in the Galt House Hotel for a weekend, and while we weren't competing, we were living it up in the city. Some of my best memories from high school came from these trips. The feet in this photo belonged to some of my friends: I
think
I have the order right. Starting with the brown ones: Brianne McKinney, me, Kylie Jenkins, Whitney Raider and Raina Rue.
Goodness gracious, I miss those trips...
I do believe our (the classes of '08 and '09) need to get together and take a Louisville roadtrip one year in honor of the amazing time we had. :)
Now, time for tagging! I tag:
Jessica
Courtney Paige
Iida
Girl Interrupted
Auri
Lyn
Get to posting ladies! And don't forget to link back here. :)
PS -- YAY for my 100th post!!!!