My first
Blogging Birthday
is right around the corner, and in honor of it I'm hosting my very first blog hop! :) You are all hereby invited to my
Blogging Birthday Bash
.
We will meet up here on
December 16th
to celebrate so many things: the birth of new friendships, the blogging outlet for self-expression, the invention of birthday cake, and, of course, some free and easy publicity for all of you
fantastic
readers.
I'll upload my own party post, and you guys get to play along by creating yours. What will you wear? This is, after all, a black-tie event. We must all be looking fab. Who will you bring as a date? How will you arrive? (Floo power? Limo? Hot air balloon?) Who will you mingle with; do you have any friends coming? Will you experience celebrity sightings? Oh the possibilities...
Anyhoo, please RSVP to me before the party day via email with your name and the link to your blog and I'll add you to the guest list in the right sidebar so that you partiers can get to know each other. :) Then on December 16th you'll upload your party posts, and we'll all jump around the guest list to say "How do you do?" (See?
Easy
publicity.) The guest list will remain in my sidebar for a week after the party date, just to be sure you all have enough time to visit each other.
If you'd like to participate, please steal the invitation below and spread the word, and on the party day please don't forget to link back to my blog in your post so that all of your readers can come as well. EVERYONE is invited. :)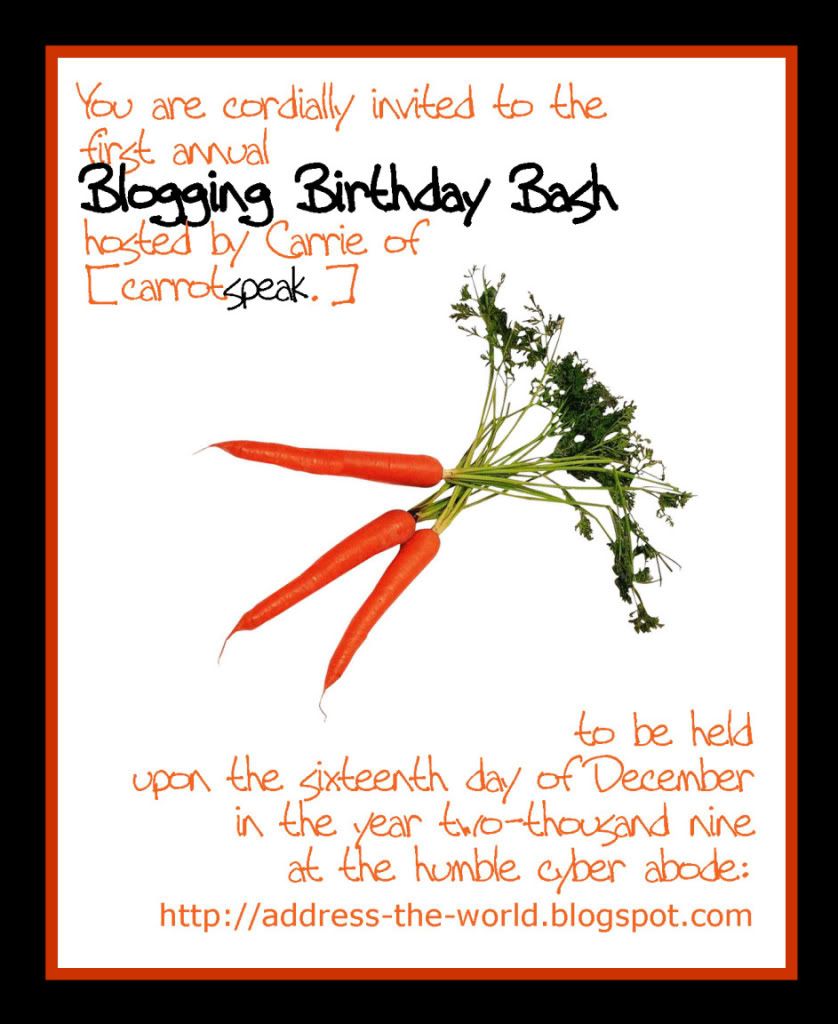 And one more thing...
This
is
a birthday party. All birthday parties have presents, right? And this one in particular has a present for one of
you
. I have a pretty little box that's wrapped very nicely, and in that box is a special prize that I'll be giving away. The winner's name will be randomly chosen from the guest list.
Wondering what's in the box? Well I'll tell you: One lucky reader is winning gift certificates to the wonderful worlds of Wal Mart and Starbucks, a copy of one of my favorite books of all time (no worries for my few male readers, it's not
Twilight
), and a "just for fun" surprise. Or two.
Want the pretty box full of goodies? You
do
? Well then come to my party! (Apparently I'm not above giving bribes...)
**NOTE **

If anyone needs help learning how to create a link, steal the banner, or complete any other seemingly simple task that's proving troublesome, please contact me via email for directions. I've only beginning to realize how many of you lovely readers are new to this blogging thing. ;)