WARNING:

I am a complete and total fan girl in this post. I am going to be pictured wearing home-made Twilight t-shirts. I am not the slightest bit ashamed of this. Do not proceed beyond this point if you do not want to be exposed to this portion of my life, or if you have some unnatural aversion to all things Twilight.
This photo was taken on the way to Cincinnati.
It rained nearly the entire way, setting the mood nicely.
Since many of you have asked about how I met Stephenie Meyer, I've decided to do a very belated post about it. Meeting Stephenie was my 17th birthday gift. Stephenie was on her book signing tour; the date was September 10, 2007. Two of my best friends, Kylie and Raina, and me skipped a day of school and drove to a Joseph-Beth Booksellers in Cincinnati, OH, to be the first in line. We knew it was going to be an amazing trip when we had to take "Edwards Road" to get there.
We were the first to arrive by far. We were there nearly five hours early and at the time there wasn't nearly as much hype about the books. Probably about 150 people turned out in the end. We waited patiently, reading Post Secret books to pass the time.
Eventually, after an excruciating wait, Stephenie descended the staircase to answer our many questions. She explained the origins of some of the characters' names, told us that we shouldn't be disappointed by Jacob, and that she would spill nothing about the fourth book's plot. Finally, she said she'd accept just one more question before the signing would begin.
It's poorly lit, and she's teeny tiny, but this is a photo of our first
glimpse of Stephenie Meyer. *squeel*
The three of us jumped up and down, literally, hands waving in the air. After a moment of careful consideration, she points directly at our group. Kylie and I were speechless. Raina, never at a loss for words, did the talking. Luckily we'd decided on our question long before we'd arrived…
"Do you read Harry Potter?"
A hush fell over the crowd.
"Doesn't everyone?"
And the audience let out a roar like I've never heard. We were elated. Not only was Stephenie the creator of every girl's dream man (kind of), she was also a kindred spirit. Suddenly she was human too, someone we with whom we could relate. =)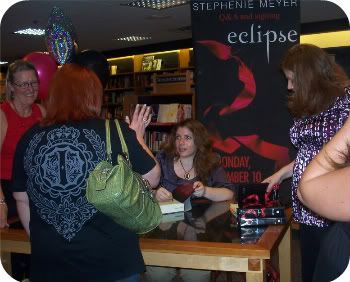 Is it just me or do her teeth look a little pointy here?
We waited in line for at least an hour before we made it up the gigantic staircase and around to the table where Stephenie was signing the books. When it was our turn, she made our night perfect. She looked up, signed a book, and then did a double take.
"I love your shirts! Where did you find them?"
Aren't they gorgeous? And if you can't read those:
Kylie (front): "Bite me Edward."
Me (middle): "My standards are set according to Edward Cullen."
Raina (back): "My heart belongs to Edward."
The back of hers said: "And so does my neck."
And so we were able to explain that we'd made them ourselves. =) Let me tell you, it was an amazing experience. I couldn't believe how 'down to earth' she was. I'd expected her to be sort of snobby, and that wouldn't really have bothered me. In my eyes, she was a literary hero, and therefore deserving of whatever attitude she chose. The fact that she really appreciates her fans makes her all the more wonderful. It isn't every day that you meet someone who isn't negatively affected by fame.
Oh, I'd love to meet her again…especially in a smaller setting. I'd love to really get to talk to her.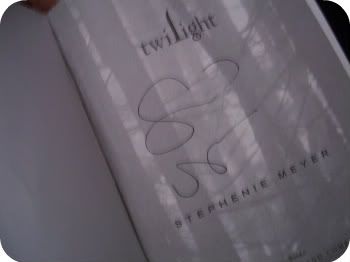 This is an image of the autograph that now resides inside the cover
of my copy of Twilight. It's a very special copy indeed. It's the one
most of my friends borrowed for their first Twilight experience. It's tattered
and well-worn, but that just goes to show how much it was loved. :)