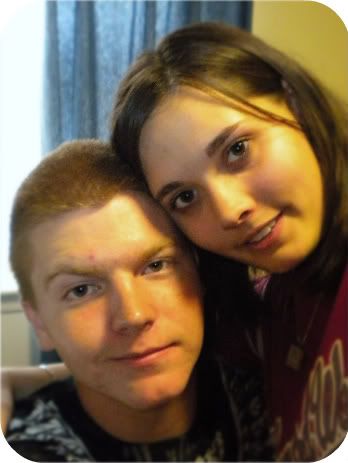 Kyle has agreed to do a guest post since he's leaving on Monday. =) I'm so excited for you guys to really get to meet him..or at least as close as you can come to meeting him here in blog-land. Enjoy guys, and show him some love!
Knowing that I'm talking to so many people I haven't met is very intimidating.

Hello you!

Firstly, introductions: I would tell you my name but you already know. Besides, a name doesn't mean anything unless you see the person's face or know them, right? In this case, you've heard quite a bit about me through my wonderful fiancée. I don't know what to say...
You see, Carrie and I are connected to each other in such a way that it would be harmful to our health if either of us would have some sort of evil befall us. You, dear readers, mean a lot to Carrie. You have helped her when I can't, listened to her stories when I was gone, and gave advice when it was needed. All I can say is "thank you." Not only for keeping my dear Carrie sane, but for encouraging her to continue on.
I wish I could say more but I'm not a heavy talker. Sorry guys and girls. I love her to death...<3 Need I say more?
Isn't he a sweetie? I love him to little teeny tiny pieces. =)