We arrived in Missouri late last Tuesday night. The trip there was both very quick and painstakingly long. Every inch of road we passed brought Kyle and I closer together, but it seemed that for every mile we traveled, another ten stretched out before me. We drove west, chasing the sunset until the mountains had faded first into small hills, and finally into plains. Distraught as I was, I was in complete awe of how beautiful the flat earth can be. The skyline was completely uninterrupted by the tall mountains I'm accustomed too. It was easy to imagine, in the middle of those great wide fields, the hand of God descending from the heavens to pluck me from the ground.
I hadn't slept a wink the night before, and didn't want to close my eyes on the way there lest I miss something I wouldn't have the chance to see again. By the time we made it to our hotel I was so exhausted that I fell immediately into sleep: no energy for nerves.
The next morning was another story. I opened my eyes and thought to myself:
It's finally today.
It was a day five months in the making. And every last second of it was worth it. But that isn't to say that I didn't spend at least an hour staring at myself in the mirror, trying to be positive I was looking as presentable as could be.
When we arrived on base, when we first saw him, I was completely overwhelmed. I didn't know what to think. I gazed at the uniform-clad man before me, desperately searching for some trace of the one I'd loved for so long. At first I thought that perhaps my nightmares were becoming reality. Perhaps the time and distance had done what we didn't think possible: maybe we had both changed. Maybe we wouldn't fit anymore.
But then those arms closed around me in an embrace. And our eyes held for a moment. His hand held my cheek. And I knew that I was the most ridiculously silly creature in the world. Of course we were still
us
. What else could we be? I was right all along. We are etched forever into one another's beings. Perfectly intertwined and inseparable. A love like ours can take on whatever it is matched against, without doubt.
We quickly whisked him away for the day, and at 8:00, brought him back for tearful (on my part, anyway) goodbyes until Thursday morning at graduation.
After we left, bringing Kyle with us, I spent the entire eight hour drive in a state of wonder. Kyle slept most of the way back to Kentucky, and I may as well have. I couldn't believe that he was finally back with me: sitting right next to me, our fingers knotted together and shoulders being used as pillows. I was so happy and relieved that I could barely form coherent thoughts to express my delight. I was perfectly content for the first time since March.
---
Saturday, August 15, 2009 was the date of the massive Welcome Home party I've been planning for months. It's been a mess of phone calls and questions and directions and food preparation. And last Saturday we pulled it off without a single problem. Everyone showed up promptly, food in hand. I floated from one circle of guests to the next, making sure everyone was mingling and happy. Kyle looked surprised and amused that so many people had made it. So, obviously, since he was pleased, I was elated. I finally felt that I had accomplished something while he was away. :)
But a few hours in I discovered that the surprise wasn't his at all, but mine.
That's right, guys. He proposed. :)
He made the sweetest speech I've ever heard, and as he fell to one knee the rest of the scene melted away. I can hardly remember anyone's reaction. My world ended outside of the two of us. The embrace after I gave an ecstatic "yes" sealed us into a bubble of pure bliss, untouched by the tears and excitement of the crowd.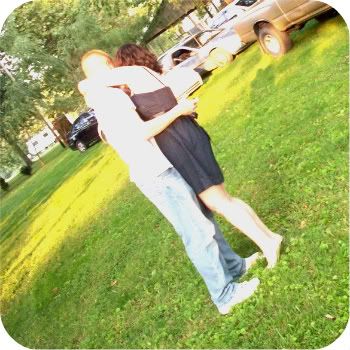 The beautiful ring that now rests on my finger is the perfect symbol of the promises we exchanged over a year ago, the ones that were laced into our first "I love you:" the one that says
forever
.
It was absolutely adorable. It was perfect. It was like a scene from a movie. I couldn't be happier. I'm finally getting my happy ending. And for once I think I can safely say: my life is a Taylor Swift Song.
Oh, I'm so excited! And I wish that each and every one of you could be at the wedding. If any of you are in my area next summer, you're more than welcome to attend.
And now, before I leave you for the day, I'd like to give you all a big thank you. Thank you, thank you,
thank you
. You guys don't know how much your comments and well wishes have meant to me. The support you give me has helped to carry me through some pretty rough times. It would have been so much harder without all the blogging-love. :)
I hope you all have a wonderful rest-of-the-week, just in case I don't make it back for a while.
"We were both young when I first saw you.
I close my eyes and the flashback starts:
I'm standing there on a balcony in summer air.

See the lights, see the party, the ball gowns.
See you make your way through the crowd
and say hello;

Little did I know
That you were Romeo; you were throwing pebbles,
And my daddy said, "Stay away from Juliet."
And I was crying on the staircase,
begging you, "Please, don't go."

And I said,
"Romeo, take me somewhere we can be alone.
I'll be waiting. All there's left to do is run.
You'll be the prince and I'll be the princess.
It's a love story - baby just say 'Yes.'"

So I sneak out to the garden to see you.
We keep quiet 'cause we're dead if they knew.
So close your eyes; escape this town for a little while.
'Cause you were Romeo, I was a scarlet letter,
And my daddy said "Stay away from Juliet,"
But you were everything to me.
I was begging you, "Please, don't go,"

And I said,
"Romeo, take me somewhere we can be alone.
I'll be waiting; all there's left to do is run.
You'll be the prince and I'll be the princess
It's a love story - baby just say 'Yes.'"

Romeo save me - they're tryin' to tell me how to feel.
This love is difficult, but it's real.
Don't be afraid; we'll make it out of this mess.
It's a love story - baby just say "Yes.'"

Oh, oh.

I got tired of waiting,
Wondering if you were ever comin' around.
My faith in you was fading
When I met you on the outskirts of town,

And I said,
"Romeo save me - I've been feeling so alone.
I keep waiting for you but you never come.
Is this in my head? I don't know what to think-"

He knelt to the ground and pulled out a ring and said,
"Marry me, Juliet - you'll never have to be alone.
I love you and that's all I really know.
I talked to your dad - go pick out a white dress;
It's a love story - baby just say 'Yes.'"

Oh, oh. Oh, oh.

'Cause we were both young when I first saw you..."