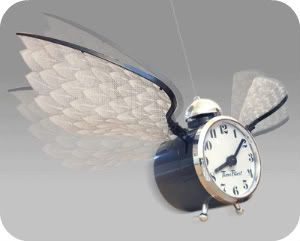 Photo via Baron Bob.
Today is a pivotal day in the life of Carrie.
Today that little countdown on the left side of my blog rolled down from "1 month" to "0 months and 30 days." Now, I realize that only one day has passed, and that not much has changed since yesterday. But you know, it's still kind of a big deal.
Suddenly I realize how quickly time has been going by. There's a party to plan and a trip to Missouri to outline. I have yet to buy the jewelry to match the dress I bought specifically for said party. I need to clean my house from top to bottom and kick things into gear. In 30 short days, we'll be back together...and goodness gracious I have so much to do before then.
And my vacation? It's a miniscule 9 days away. Everything is happening so quickly, and I get the feeling that if I blink, I'll miss a whole week. =/
(Did I actually
hope
for that before? What was I thinking? I need preparation time!)
Anyways. If I've been blogging a bit less frequently lately, this quickly moving space of time is the reason. I've had so very much to do, and so little time left to accomplish it all. I really do need to stop procrastinating, I suppose.
But if I go missing from the blogging world for a bit, never fear. I'll be running around my house like a crazy person making it look acceptable, and making a mad dash for the jewelry counter to find a pretty yellow necklace, and making a huge amount of phone calls to be sure that
everyone
will have themselves at the party at the appropriate time, and packing for the two trips that are swiftly approaching, and maybe, possibly finding the time to sleep. (All the while wondering if
I've
changed some imperceptable amount while he's been away, and if I should wear the red shoes or the black ones with the outfit for his graduation day...)
Oh my my my...what on earth have I gotten myself into?