The weekend started out slow with a lazy Friday night/Saturday morning, which suited me just fine after a long week at the very boring office. I did make the best spaghetti
ever
on Friday night, too. I was really proud of myself. :)
But Sunday went by in a rush of phone calls from Kyle, hugs at the high school graduation, visiting new puppies, and doing summer proof-reading for the high school yearbook.
(Yes, I did graduate last year. I'm getting paid to come back and do more of these: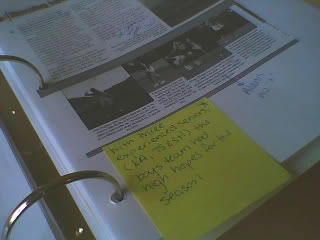 For $50 from my favorite teacher, I don't mind a bit.)
Anyway, it's been a good couple of days. :)
And here is the newest picture Kyle sent me. (Thank God for camera phones.) He might kill me for this later, but he's adorable and I can't help but share. Besides, what he doesn't know won't hurt him...