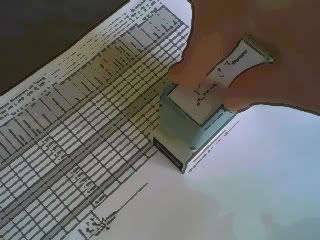 I have no idea who Donna Harmon is. I've never met her. But I've just finished stamping her name on hundreds of time sheets for the office.
All I have to say is that she's either a very busy woman or a very important one. This stamping business happens at least once a month, and she never does it herself. No, the monotonous task of approving time sheets falls to me.
I don't mind a bit. I'm paid very well for what little work I have to do, and I actually quite enjoy lining the stamp up just so with the signature line.
I like office-y things in general. I like alphabetizing and shredding and filing. I like answering phones and printing and copying. I like making conversation with the other people here. I like giving people directions to whichever office they need. I like knowing what's expected of me...
I like that I have my name on a door.
I like that I have my own phone line.
I like that I get to decorate however I like.
I like that I choose my own schedule.
I love my job. I really do.
(And if you ever need Donna Harmon's signature, I'm the girl to call.)