Today I bring to you, live and in color (kinda), a scrumptious Snickerdoodle Cake.
To start things off I searched until I found my handy-dandy apron...because no cooking experience is ever the same without one.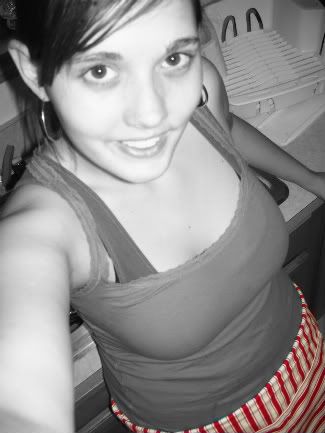 Next up: gather the ingredients and pre-heat the oven.
(I get bonus points for thinking ahead and being organized, right?)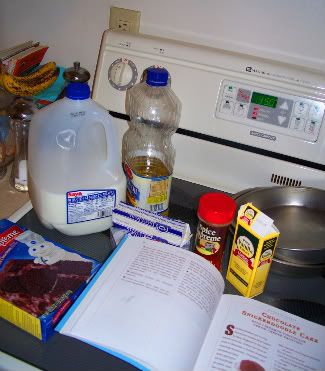 Then came mixxxxxing time. :D I've always loved this part.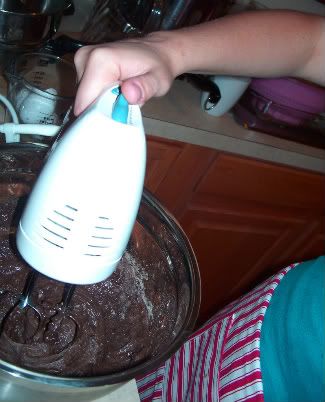 And becasue I know you're all wondering, the answer is yes. I did lick the beaters after I finished.
Then it was into the oven.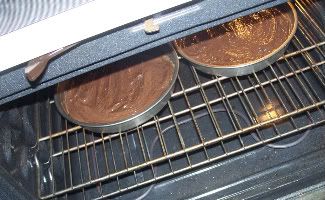 I was very impatient, but it turns out the cake was worth the wait...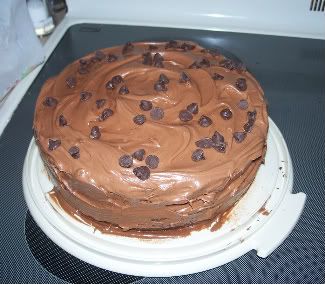 Doesn't it look absolutely delicious?
It tastes even better. The cake is rich and chocolatey, and the icing tastes mostly of cinnamon and cream cheese. It was incredible. So, for your enjoyment, here is the recipe. Let me know how it goes if you try it out! :)
Chocolate Snickerdoodle Cake
with cinnamon-chocolate cream cheese frosting
(From the book by
Anne Byrn
)

Ingredients (cake):
-1 package (18.25 oz) dark chocolate fudge cake mix
-3/4 cup milk
-3/4 cup vegetable oil
-3 large eggs
-2 teaspoons ground cinnamon
-1 teaspoon pure vanilla extract
[1] Place a rack in the center of the oven and preheat the oven to 350 degrees. Generously grease two 9 inch round cake pans.

[2] Place the cake mix, milk, oil, eggs, cinnamon, and vanilla in a large mixing bowl. Mix, mix, mix with an electric mixer for one minute. Stop the mixer, scrape sides with a rubber spatula, continue mixing until well blended.

[3] Divide evenly between the two cake pans and place side by side on the middle rack.

[4] Bake for approximately 28 minutes. (Until they bounce back to their original shape when pressed lightly.)

[5] Allow to cool before icing. :)

Cinnamon-Chocolate Cream Cheese Frosting

-1 package (8 oz) cream cheese at room temp.
-8 tablespoons (1 stick) butter at room temp.
-1/2 cup Dutch-process unsweeteneed cocoa powder
-1 teaspoon ground cinnamon
-1 teaspoon pure vanilla extract
-4 cups confectioners' sugar
[1] Begin by blending the cream cheese and butter with an electric mixer.

[2] Then mix in the cocoa, cinnamon, vanilla and 3 cups of the sugar. If the mixture doesn't appear thick enough, add more. :)

Tip: This makes a lot of frosting, so ice the cake generously.
And here are the two lucky girls who recieved a piece: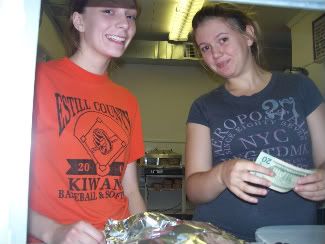 Brianne and Kylie were hard at work at The Twin. (Local, rather old fashioned, ice cream shop.) I thought they deserved a treat, so I surprised them at work. :)
(The fact that I wanted a couple of guinea pigs to test the cake out on didn't hurt either... And for the record, they liked it.)